When you choose AVID® you choose a company veterinarians trust. AVID has been in the business of saving lives through microchip identification and recovery since 1987. Protect your patients by implementing a microchip and scanning program at your facility. AVID helps reunite thousands of lost pets with their families every week.
Protect Your Patients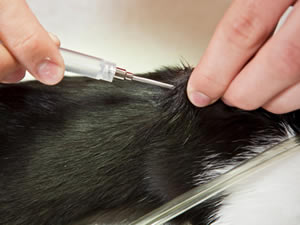 Many pet owners believe that losing their pet just won't happen to them. But mishaps do occur, the door is left ajar, the gate is left unlatched or a hurricane, tornado, or fire can ravage their community. Each year an estimated 6 to 8 million pets enter shelters (Source: HSUS) and although visual identification such as a collar or custom tag are the easiest solutions to establish identification most pets have no form of identification. Did you know that more pets die because their owners didn't identify them than from all infectious diseases combined? Shelters do their very best to locate owners, but if your pet has no form of identification, there's not much they can do. Pet owners do what their veterinarian recommends. Recommend an AVID MicroChip — it could save your patient's life.
AVID Pet Recovery Solutions for Veterinarians
AVID offers a range of products and services for implementing a microchipping and scanning program at your clinic or medical facility. AVID is the only company in the world that develops, manufactures, and distributes its own patented microchips and scanners and does the work necessary to return lost pets by operating a 24/7 pet recovery service. When you purchase from AVID you get products that are proven safe and effective in reuniting pets with their families. AVID's products are used by veterinarians, shelters, and rescue groups and have helped save millions of lost pets. When you purchase from AVID you get products and services that benefits pets, clients and your community.
AVID FriendChip - Microchipping your patients is the safest way to permanently identify the pets in your care. The AVID FriendChip is designed as an injected medical device to be safe and effective, and to be offered by veterinarians to benefit their patients and clients. The implant procedure can be performed anytime and protects virtually any pet in your care...dogs, cats, horses, birds, reptiles, exotics, even fish! Once implanted, the AVID FriendChip provides positive identification and proof of ownership that is virtually impossible to remove or alter.
AVID Scanners - Avid offers a wide selection of portable scanners that combine portability, versatility and optimum performance in a rugged, lightweight functional design. AVID scanners are the ideal solution when portability and cost are important. When your facility commits to scanning pets during admission and prior to being discharged you increase the chances of a successful reunion.
The AVID Pet Recovery System - The AVID Pet Recovery System makes it easy and economical for you to begin offering microchipping and recovery services to your patients. The AVID Pet Recovery System includes everything your facility needs to start implementing an effective microchipping and scanning program. The AVID Pet Recovery System is the ideal solution to begin microchipping and scanning the pets in your care.
Prepaid PETtrac Registrations - Prepaid PETtrac Registrations provide comprehensive protection for your patients by bundling the microchip implantation and registration together. Offering this service to your patients and clients can help increase return-to-owner and microchip registration rates in your community.
Veterinarian Starter Package - a starter package for veterinarians who want to begin offering microchipping services to their patients. The vet package includes everything you need to begin microchipping and scanning pets in your care.
Sources
"HSUS Pet Overpopulation Estimates."
The Humane Society of the United States.N.p., 23 2009. Web. 24 Oct 2012.
http://www.humanesociety.org/issues/pet_overpopulation/facts/overpopulation_estimates.html