The AVID Professional Portal is a mobile-friendly web application for animal care professionals who use PETtrac, AVID's pet recovery service. The portal is developed internally by our team to help improve the pet recovery process for municipal shelters, animal control facilities, humane societies, and veterinarians. Animal care professionals can reduce unnecessary phone calls to PETtrac and expect improvements to their own pet recovery programs. The AVID Professional Portal gives you access to the world's largest and longest operating pet recovery database.
Benefits
Access PETtrac while in the field or at your facility.
Quick access to PETtrac, reduce phone calls and wait times.
No apps or software to install.
Access the largest and longest operating microchip-based pet recovery database in the world.
Reduce costs while increasing return-to-owner rates (RTO) in your community.
Shelters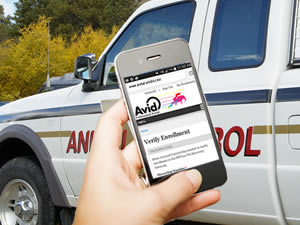 The AVID Professional Portal offers participating shelters a search tool for locating pet owners in the PETtrac pet recovery database. Shelters are encouraged to utilize the search tool to reduce phone calls to PETtrac and the amount of time it takes to locate a pet owner. If a microchip is enrolled in PETtrac, the tool provides the pet owners primary and secondary contact information as well as the veterinarians information. The AVID Professional Portal can help you reduce a pet's stay to several hours, not days, which saves taxpayers, donors and shelters like yours an average of $120.00 per animal in kennel fees. Please contact sales at 1-800-336-2843 ext. 5001 to request access.