For over twenty years, Avid Identification Systems, Inc., has recognized the unique contribution that service dogs provide to our society. These dogs are highly trained and valuable adjuncts to their handlers, performing a multitude of tasks on a daily basis which serves a large and ever increasing segment of our population. Over these past twenty years, countless thousands of service dogs have been identified with the AVID FriendChip, for free. Coupled with the PETtrac Pet Recovery Network, these animals now benefit from PETtrac's safety-net protection for the rest of their lives. This free chip and registration program emphasizes AVID's commitment to supporting the service dogs that so many rely on.
Qualifications for the Program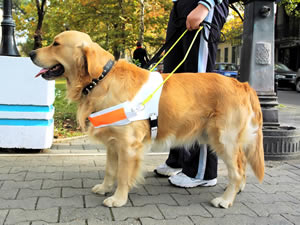 According to the ADA regulations, a service animal is defined as a dog that is individually trained to do work or perform tasks for a person with a disability. AVID recognizes the social investment in the training of these dogs and extends the Service Dog Program to include the following: dogs that guide the blind, dogs for the hearing impaired, search and rescue dogs, police dogs, military dogs (both working and PTSD service dogs) and dogs that are trained to perform specialized tasks tailored to the symptoms and needs of a handler with a demonstrated medical disability, as defined by the ADA. Therapy dogs, whose purpose is to provide comfort or emotional support, are not recognized as a service dog by the ADA and are not included in AVID's program.
Why Microchip?
Don't let loss, separation or theft impact you or your beloved service dog. Collars and tags can come off, and most animal shelters do not know where to call if faced with a found service animal. The AVID FriendChip is safe, effective, involves little pain and is the most permanent method of pet identification available. Almost all animal shelters have microchip readers, so identification is immediate. Under current guidelines, microchip identified animals involved in a disaster receive immediate veterinary care.
How Do I Participate?
If you want to participate in the service dog program, contact your local veterinarian and find out if they use AVID MicroChips. If they are an AVID customer, they will be credited with every chip that they place in a service dog, and you will be able to register your dog for free with PETtrac. These participating veterinarians have a protocol to follow to document your certified dog. If your veterinarian is not currently an AVID customer, just contact AVID at 1-800-336-2843 and a representative will supply the name of a local veterinarian that uses AVID MicroChips. Remember, without permanent identification, your service dog may never be reunited with you. Your service dog is uniquely valuable, and both you and your dog deserve the safety net that AVID MicroChips afford.